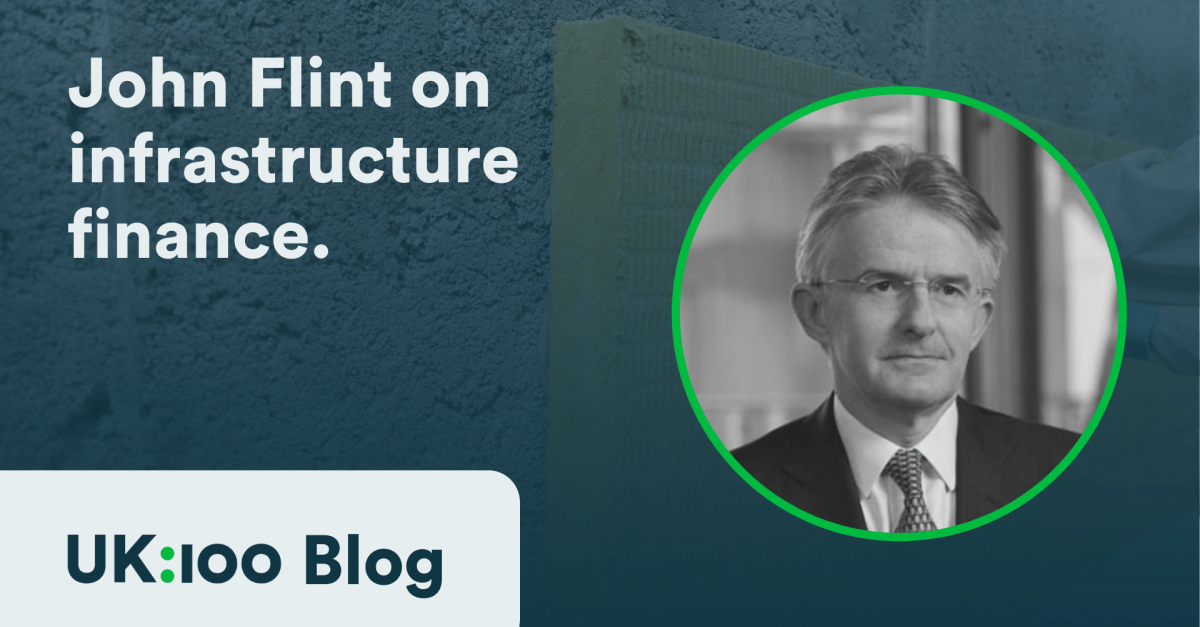 The Chief Executive of the UK Infrastructure Bank, John Flint, reflects on how infrastructure finance can help local leaders unlock the transition to Net Zero.
It was a privilege and a pleasure to take up my role as the inaugural CEO of the UK Infrastructure Bank in September. The Bank is a unique institution with a mandate to tackle two pressing intergenerational challenges – the transition to Net Zero and supporting local growth across the UK.
Of course, the local government sector is central to both those missions, so I am pleased the Chancellor gave the Bank a specific mandate to work in partnership with authorities to deliver their priority projects through providing efficient finance and advice.
I have been impressed by the passion and vision of the public sector leaders I've met in the past six months. Many have articulated clear visions of a bright future for their area and ambitious plans to accelerate the transition to Net Zero.  
An early highlight has been supporting authorities to take the concrete next steps in delivering the infrastructure that underpins these plans. The first deal for the Bank was lending £107m to the Tees Valley Combined Authority to support the redevelopment of South Bank Quay – a critical piece of enabling infrastructure that will support meeting the UK's ambitious offshore wind targets and create local jobs as part of wider redevelopment of the area. 
Earlier this month, we were able to finance the West Midlands Combined Authority's development of green bus routes in Birmingham, helping people get to work more quickly, more easily and with less impact on the environment.  
There are obvious differences between these projects, in size, sector and how they fulfil the Bank's mandate. What links them is that they are grounded in strategic investment plans for their areas and represent financeable propositions taking account of the commercial and delivery risks. 
We will support many more such projects in the coming months and years. Polly Billington and the UK100 team kindly hosted a roundtable last month with a group of UK100 members so that I could hear directly the priorities of local authorities. Of course, the right infrastructure in a Scottish city will be different from a rural Welsh county. But I heard some repeated themes – decarbonising building stock through low carbon heat and energy efficiency, creating and expanding zero emission transport options, and dealing with waste. 
Local leaders are seeking to deliver multiple interventions, simultaneously and at unprecedented pace. In doing so they need to overcome well-known barriers to taking projects to investable stage – appropriate risk allocation, dealing with demand risk for new technologies, and of course longstanding capacity constraints and pressures in local government. Access to appropriately structured finance can be part of, though never the entirety of, the solution.  
That means that as a policy bank, we need to think creatively about our role and in particular where we can focus our nascent advisory function to develop appropriate and repeatable financial models. My ambition is to bring the best human capital to bear, working in partnership across the strong community that already exists. 
We are bringing together the people we need: high-calibre financiers, climate and infrastructure specialists and the best of the public sector. I believe we have a great and unique offer. Those who join us will learn a great deal at the forefront of bringing finance to bear on climate change – I know I have.
I am not naïve about the complexity of the multi-faceted problems we face. But I am optimistic that by working in partnership and challenging one another we can make a real difference. Doing things the way they have always been done will not deliver the change we need – either in the ways we generate and use energy, or how we drive clean growth across all parts of the UK.