Online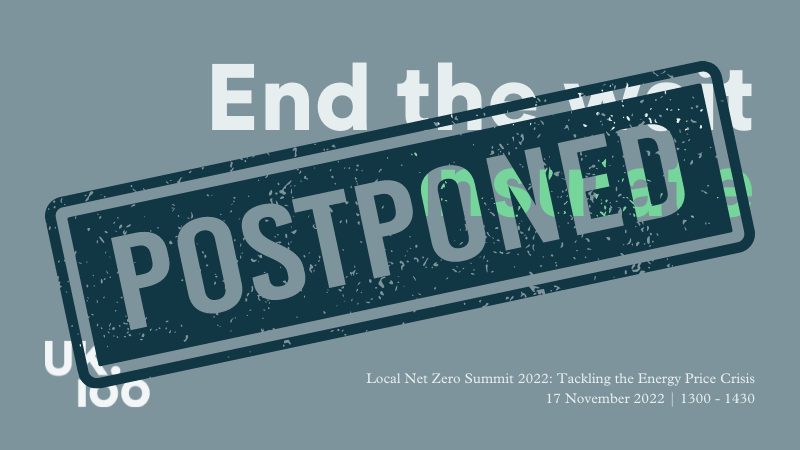 Postponed: UK100 is bringing local & regional leaders together to restate the case for local authorities to lead in tackling the cost-of-living crisis.
Thank you for registering to attend UK100's Tackling the Energy Price Crisis.
We regret to inform you that the event originally scheduled for Thursday 17 November, 13:00 - 14:30 has been postponed.
With 11 million Brits facing fuel poverty and households predicted to see average energy bills of more than £ 4,000 a year in 2023, the situation remains bleak. The need for an energy efficiency revolution to end the wait and insulate has never been more urgent.
However, we have decided to postpone the planned summit event in November until next year following the announcement that the Chancellor is rescheduling the much-anticipated Halloween fiscal statement until 17 November.
The statement will have far-reaching implications for business and local government. And after consultation with our speakers and stakeholders, we understand the priority on 17 November will be responding to the fiscal statement in their areas.
UK100 will also consult with our members to inform the network's response to the fiscal statement.
And please note that we are not abandoning our campaign to End the wait. Insulate. It will continue apace, and we will make a robust call on the new Prime Minister ahead of the fiscal statement to make energy efficiency a central part of the Government's response to the ongoing energy crisis.
At the same time, we intend to work with the expert speakers we had lined up for the summit to ensure our members and registered attendees can still benefit from their insights.
We remain committed to the cause and will continue advocating for a locally-led energy efficiency drive to help avert the kind of winter millions face this year.
To keep up to date with UK100's campaign, our research, our work and to see best practice from across the network, sign up to our mailing list here.
Polly Billington, UK100 Chief Executive