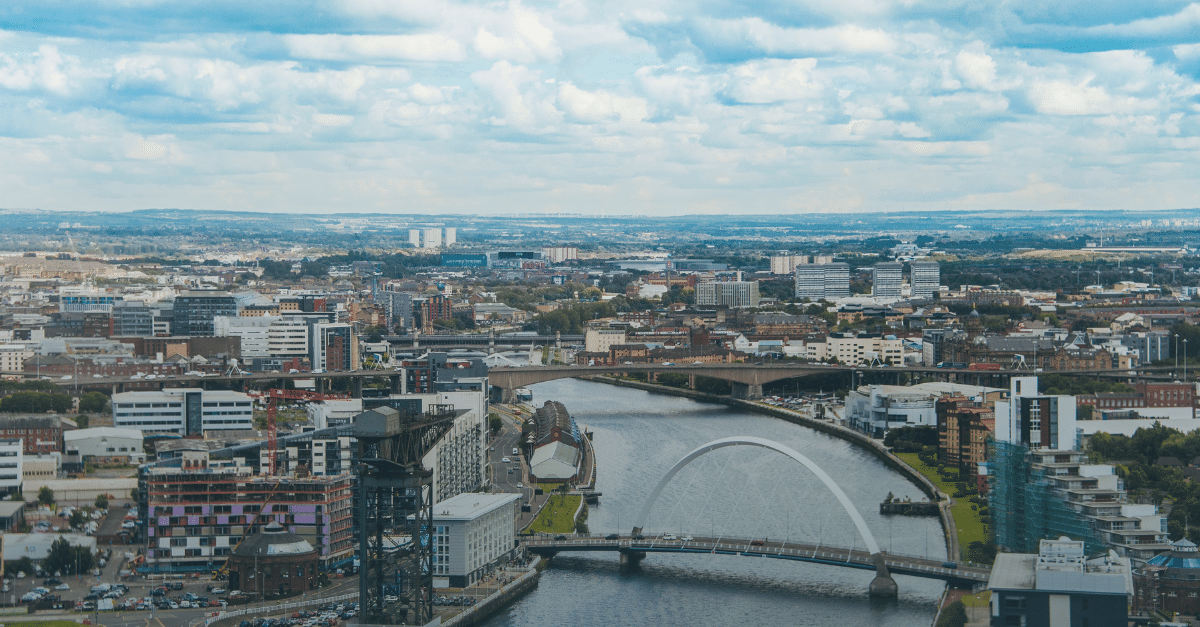 We're delighted to announce the Leader of Glasgow City Council Cllr Susan Aitken has been appointed Co-chair of UK100.
As one of UK100's 50 most ambitious members, Glasgow City Council has pledged to do everything in its power to get both the city and its own operations to Net Zero by 2030.
Taking up the new role will enable Glasgow's SNP leader to embed her political insights into the network's long term strategy to support ambitious, local climate action across the UK.
The announcement comes a little over six months away from what will be an historic UN climate conference at COP26, hosted this year by the UK in Glasgow.
Cllr Aitken said: "Across the world, cities are leading when it comes to facing up to the climate emergency – and it's unthinkable that those same cities won't be central to the kind of agreement and action the planet demands from COP26.
"Everyone understands that it will be nation states that sign any 'Glasgow Agreement' later this year, but cities like ours and networks like UK100 are, quite obviously, moving ahead of their national governments.
"City leaders should welcome that role and the opportunity to secure a just transition to a more sustainable society; but governments must be ready to back the expertise, innovation and vision of their urban centres.
"I'm delighted to take on this role in a year when the voice of cities must be heard, here in Glasgow and across the world."
In 2020 the council launched Sustainable Glasgow, a coalition of city chiefs from the public and private sectors, academia and civil society, to lead the city's race to Net Zero by 2030.
Glasgow is also forging international links on environmental action with new partner cities, including Pittsburgh and previous COP host Santiago de Chile. 
Late last year, Cllr Aitken won agreement from local and regional governments participating in the UN's Convention on Climate Change to put social justice at the heart of their planning.
At home, Glasgow also operates Scotland's first low emission zone as part of a range of actions on clean air. This currently covers local service buses and is set to expand to all vehicles in 2023.
UK100 Director Polly Billington said: "We're thrilled to announce Cllr Aitken as UK100's new Co-Chair. 
"Already a member of our ambitious cohort of councils who have pledged to go further and faster than government, she'll now be taking on a wider role as one of our political champions.
"Cllr Aitken's new role as one of our key figureheads is a very natural extension of the determination she has shown at Glasgow City Council to get the city to Net Zero by 2030.
"I'd like to acknowledge the ambition she has demonstrated and the importance of having voices from across the UK, and across the political spectrum, at the centre of our activities. 
"We're delighted Cllr Aitken has accepted our offer to be one of the political champions for the work of UK100 and its members."
Glasgow City Council is also one of a few local authorities across the UK who have joined the UN Race to Zero Campaign.
The campaign rallies leadership from businesses and local actors for a green recovery that prevents future threats, creates decent jobs, and unlocks inclusive, sustainable growth.
Glasgow City Council joins nearly 40 other local authorities from West Midlands and Wiltshire to Cornwall and Camden who have joined the global campaign.
West Midlands Combined Authority and UK100 are hosting a conference on the UK's Net Zero future on July 13, where Cllr Aitken will be speaking.
This event is the key milestone for local leaders in the UK in the lead up to COP26, building on the commitments and actions already made by local leaders. 
And it is designed to accelerate the shift to Net Zero, by demonstrating the power and effectiveness of local leadership on climate.
To register your interest for the conference click here.