Reading Borough Council, UK100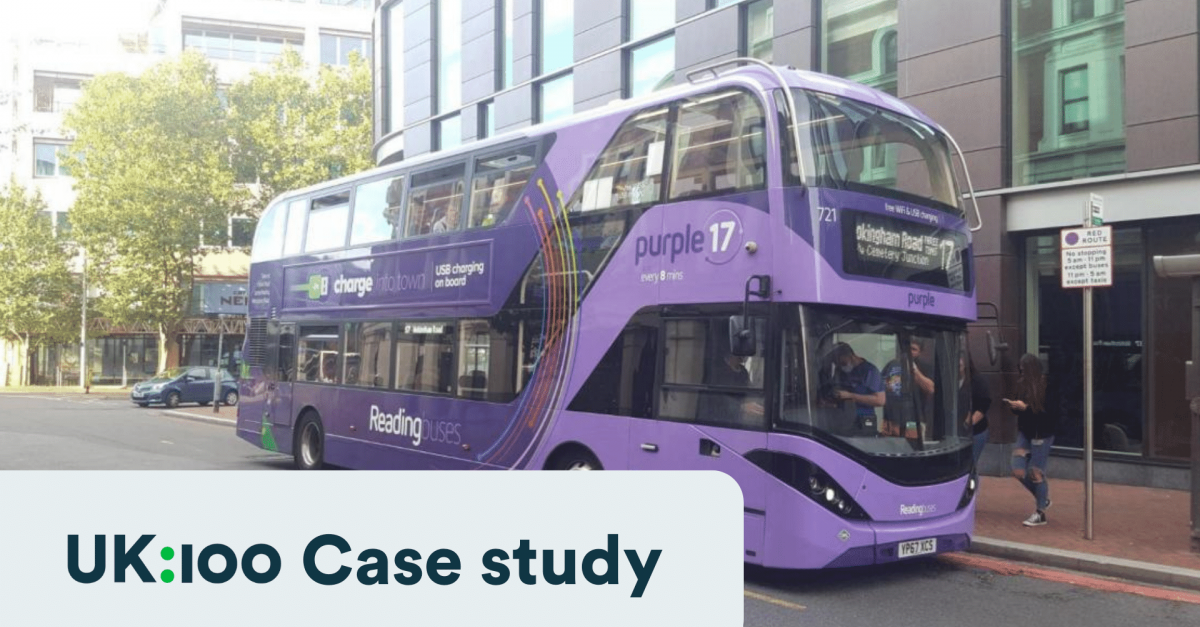 Summary
Reading has invested heavily in bus infrastructure and services over the past few decades with the result that it boasts one of the most successful public transport networks outside of London. Reading's approach is based on providing high-quality services at affordable prices and using efficient, environmentally-friendly rolling stock. 
Since 2014, Reading has stepped up its investment in its buses, with £30m designated for the new South Reading Mass Rapid Transit (MRT) project; a major programme of bus lane installation along the A33 to the south of the city centre. This facilitates decreased journey times by bus along this often congested trunk road, incentivising use of the Mereoak Park and Ride.
Reading Buses also invested in 58 bio-gas powered buses, resulting in a quieter, cleaner and greener fleet. The bio-gas buses are estimated to reduce CO2 emissions by up to 84% compared to an equivalent diesel double deck bus. Reading Buses continues to be a pioneer of the 'green fleet' and is now looking at electrification options for its rolling stock.
Reading has demonstrated how a proactive approach and municipal ownership can combine to deliver attractive public transport alternatives to the car, cleaner air and lower carbon emissions, with Reading Buses winning a plethora of awards over the years. 
Our problem
Reading is the economic hub of the Thames Valley and a major centre for employment and leisure, providing health, education, retail and other services to a wide catchment on a city scale. The town's economic success, however, brings challenges, in particular high levels of traffic and congestion, with associated greenhouse gas emissions and air quality impacts. 
Transport emissions represent approximately 22% of Reading Borough's carbon footprint (108 kilotonnes CO2e in 2019, the latest year for which data is available) as measured by the National Statistics dataset for 'emissions within the scope of influence of local authorities' (which excludes emissions from motorway traffic).
The provision of attractive, sustainable alternatives to the private car has been a long-standing aim of Reading Borough Council's transport strategy, and a high-quality bus service is key to this. Whilst many UK local authorities have disposed of their own transport operators, Reading Borough Council has retained ownership of its bus company, Reading Buses, investing heavily in both the infrastructure and rolling stock required to compete successfully. Much of this funding came from government funding made available directly or indirectly via various competitive bidding processes. Fundamentally, however, Reading Buses success is based on its ability to function as a commercially viable operation which is not overly dependent on public subsidy - less than 15% of vehicle kilometres in Reading were supported financially by local authorities in 2019/20. The annual turnover for Reading Buses is around £48m. As awareness of the climate crisis has grown, this commitment has been sustained in recognition of the environmental advantages of mass rapid transit. 
There are a number of challenges faced when developing or maintaining a high quality public transport offer: prevailing national transport policies which effectively make the marginal cost of private car journeys relatively low compared to public transport; a deregulated bus market and privatised railway system which add to the complexities of strategic planning, integration of services, through ticketing etc; and, more recently, a significant drop in ridership arising from pandemic restrictions and the subsequent changes in travel habits and working patterns.
Across the UK, many areas have suffered from either the partial or complete loss of crucial bus services, or have found themselves reliant on expensive or unreliable services. However, Reading has avoided this fate through sustained commitment to bus services and infrastructure, and remains optimistic about the future despite the challenges outlined above.
Overview
Key Project 1: Mass Rapid Transit
Whilst the Council's investment in bus services extends to many decades, this has been stepped up since 2014 with a major investment programme in one of the area's main transport corridors, the A33 to the south of the town. 
The A33 corridor carries high volumes of traffic providing access to over 50,000 town centre jobs, as well as being the main access for major south Reading employment areas of 10,000 jobs and 1,600 homes. Reading Borough Council and the business parks along the A33 have made significant investment in bus services along the corridor, delivering high-quality, low noise and low emission bus services. However, planned growth in the area means that around 50% of the traffic on this corridor could be associated with planned development by 2025, requiring action to prevent a corresponding rise in emissions.
South Reading Mass Rapid Transit – a bus priority lane and 'Greenwave' rolling stock linking south Reading employment sites and the town centre.
A multi-phase South Reading Mass Rapid Transit (MRT) project has therefore seen c£30m million invested or planned in the corridor since 2014 with the following aims:
To reduce public transport journey times and improve reliability  
To enhance urban connectivity, improving access to key employment sites
To provide a key north-south spine to the proposed wider Thames Valley Berkshire Mass Rapid Transit network
To enhance access to/from South Reading to central Reading and Reading Station
To reduce transport related emissions and improve air quality
The scheme connects the Mereoak Park & Ride facility to existing business and business parks, a new railway station at Green Park (under construction), Reading Football Club's stadium and additional commercial and residential development, to the town centre. The MRT scheme is being delivered by constructing an additional bus lane alongside the existing highway for the majority of the route, bus priority at selected signalised junctions, enforcement cameras and the provision of new bus stops and passenger facilities, including green roofed shelters.
The scheme is currently provided for buses but in the future could be used by guided buses, trams or autonomous public transport vehicles.
Route of the Mereoak Park & Ride bus which utilises the new A33 bus lanes.
The project has been a key initiative within successive iterations of Reading's Local Transport Strategy, Local Plan and Climate Emergency Strategy and is one of the largest investments in the Council's capital programme.
Phases of the Mass Rapid Transit Programme
Delivery of the various MRT phases was led by Reading Borough Council, utilising national funding secured via the Thames Valley Berkshire Local Enterprise Partnership's Local Growth Fund and developer contributions. Delivery of the scheme on-site commenced in 2014 which was preceded by over 2 years of planning, procurement, design and business case development.
Phase 1: M4 Junction 11 to A33 Green Park junction – £3.7m, completed 2016
Phase 2: A33 Green Park junction to Island Road - £1.9m, completed 2017
Phases 3 & 4: Rose Kiln Lane to Bennet Road - £12.7m, completed 2021
Phases 5 & 6: £12m – funding bid pending, completion by spring 2025 (earliest)
A single-phase scheme was considered but discounted due to the higher costs of implementation and disruption, pointing towards a phased approach to delivery. The alternative – 'do nothing' – would have led to increased congestion on the network, limiting the sustainable economic development of the area, and possible business relocations to the detriment of the local economic and employment prospects.
A 'green roof' bus shelter being trialled to improve urban air quality and biodiversity on the A33 corridor in south Reading.
Key project 2: Rolling stock improvements
At the same time as investing in improved infrastructure, Reading Buses also invested in 58 bio-gas powered buses, resulting in a quieter, cleaner and greener fleet. The bio-gas buses are estimated to reduce CO2 emissions by up to 84% compared to an equivalent diesel double deck bus. They also produce significantly less Nitrogen Oxides (NOx) than the buses they replaced with the gas being produced from food waste and animal manure. The gas is purchased through the Gas Bus Alliance which sells "virtual" bio-methane produced from renewable resources. The Gas Bus Alliance remotely injects an energy equivalent volume of bio natural gas (BNG) into the National Grid network to balance the gas taken direct from the mains and compressed by Reading Buses. Reading Buses continues to be a pioneer of the 'green fleet' and is now looking at electrification options for its rolling stock.
Electric bus trial – Electric Vehicle trial by Reading Buses featuring Robert Williams (CEO of Reading Buses) and Cllr Tony Page (Deputy Leader, Reading Borough Council)
Stakeholders
Key stakeholders involved in the projects included:
Reading Borough Council as local planning authority and transport/highway authority for Reading
Neighbouring local authorities within the Reading catchment, including Wokingham Borough Council and West Berkshire Council
Bus operators, particularly Reading Buses, including workshop sessions with employees including drivers on the route
Residents and communities of Reading and the areas beyond served by the bus services in the area, including public drop-in sessions to provide feedback on the proposals
National government, which provided funding for bus priority infrastructure
The Thames Valley Berkshire Local Enterprise Partnership, which has channelled national funding via its Local Growth Fund
Major employers and institutions in the town whose staff, customers, or service users rely on effective public transport (including the Royal Berkshire Hospital and University of Reading)
Major businesses and business parks supported provision of bus services directly or indirectly (e.g. via developer contributions)
On-going engagement has been undertaken with the above stakeholders as individual phases of the scheme have been developed to feed into the design for the next phase of works. A monitoring and evaluation plan has been undertaken in partnership with the LEP as the majority funder of the scheme. 
Impact
Key impacts from sustained investment in Reading's buses include:
Provision of high quality public transport alternatives to the car with lowered  journey times and improved reliability.
Significant carbon emissions saved and air quality improvements from car trips avoided.
Co-benefits arising from the project include:
Active travel and healthy lifestyles – accessing public transport services generally requires short distances to be walked thus integrating an element of 'active travel' into day- to-day commuting and leisure trips.
Improved access to key employment sites to and from some of the most deprived parts of the borough, thus increasing economic opportunity across the borough. 
Affordable mobility: through innovative fares and ticketing strategies – including smartcards, a mobile app and a 'saver 10' ticket for occasional travellers (10 tickets at discounted price), all of which enable advance purchase at lower cost - Reading Buses has made travel more affordable for many bus users. A 7 day pass for travel in Reading's central area can be bought online for as little as £16 (£12 for under 18s), with a 'saver 10' ticket also available for £16, equating to £1.60 per journey.
The scale of the impact is indicated by the bus ridership figures for Reading: unlike many other areas in England, bus patronage had grown steadily in Reading in each of the seven years up to the pandemic. The number of passenger journeys increased by over 6 million trips from 16.0 million trips in 2011/12 to 22.2 million trips in 2019/20. The magnitude of this level of bus patronage is further demonstrated by the fact that it equates to 137.5 annual passenger journeys per head of population in 2019/20. This was the second highest level of bus patronage per head of population in England, outside of London. It is almost twice the average for England.
Annual Passenger Journeys on Local Bus Services (per head of population)
Another benefit of our investment in bus services in Reading is the civic pride which the community has in the service. If London Buses are iconic for their uniform red appearance, Reading Buses are similarly so for the opposite reason: their colourful diversity. The fleet sports a rainbow of liveries with a functional as well as an aesthetic purpose of signifying the routes they serve. This was underlined in a recent survey which highlighted Reading Buses as a source of pride in the town.
Learnings and legacy
The Covid-19 pandemic had a disastrous effect on public transport, suppressing ridership and threatening the viability of many services and operators. The current priority is to ensure a rapid recovery by maintaining a high-quality public transport offer and rebuilding confidence in the safety and reliability of public transport services. 
To this end, and in recognition of the importance which buses play in the UK's public transport network, in 2020 the Government launched the new national bus strategy, 'Bus Back Better', and subsequently invited local authorities to prepare 'Bus Service Improvement Plans' for their areas and to bid for funding for their implementation. 
In April 2022 it was announced that Reading was one of 31 local authorities to be successful, with the Council being awarded an indicative £26 million to implement its Plan, one of the largest awards in the country. Around £16m of this is earmarked for bus infrastructure enhancement, and £10m for bus service improvements, with the funding assigned to the period to March 2025. Key elements of Reading's plan include:
Further investment on key bus corridors and routes that are easier for passengers to understand
Seamless and integrated local ticketing between operators and across all modes of transport
Significant increases in bus priority and the transformation of bus networks through bus rapid transit and other measures
Further decarbonisation of Reading's bus fleet
Bus services that are seen as safe by passengers
Simpler fares
Giving passengers more of a say through the creation of a 'Passenger Charter'
Prevailing national transport policies which effectively make the marginal cost of private car journeys relatively low compared to public transport need to change to make public transport the obvious, and cheapest mode of choice. The UK's deregulated bus market and privatised railway system also add to the complexities of strategic planning, integration of services, through ticketing etc. Reading's bus services have thrived despite these challenges thanks to the long-term, sustained commitment of the local authority to creating high quality bus priority infrastructure and to sustaining its municipal bus company.
Contact details