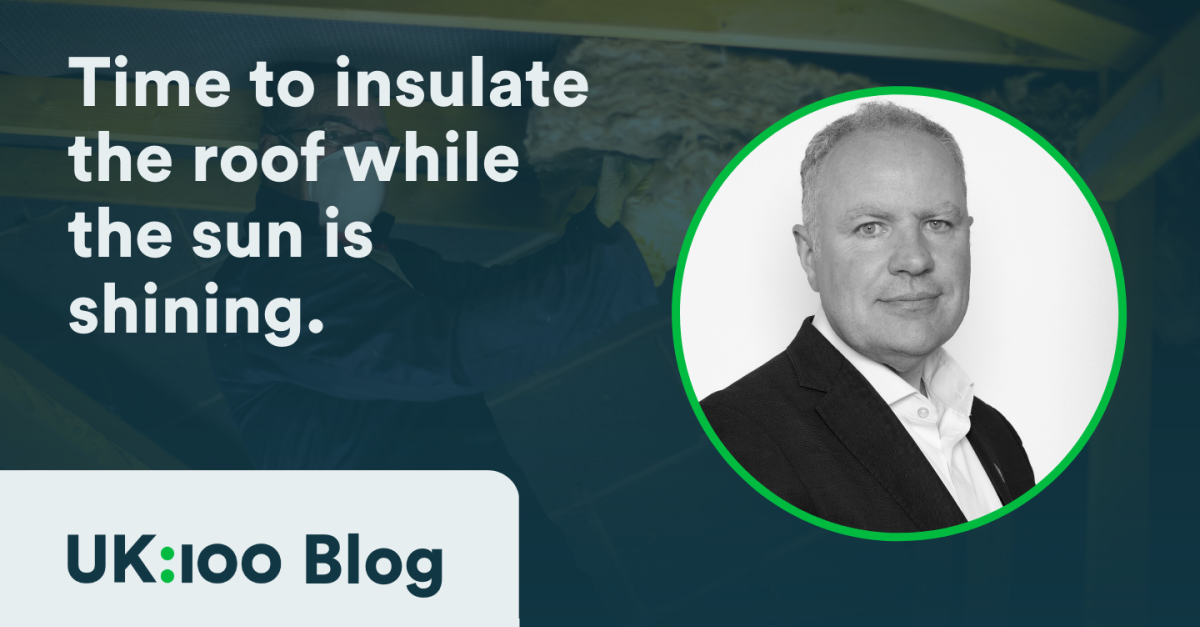 UK100's Interim Chief Executive Jason Torrance reflects on the energy efficiency announcements launched as part of the UK Government's "Green Day" Net Zero Strategy update and policy blitz.
As we find ourselves blooming out of the dark recesses of winter, the old adage "fix the roof while the sun is shining" springs to mind, particularly in the context of the crises currently facing millions of Britons.
And it's that sentiment by which it's useful to judge the recent climate policy blitz. 
The announcements — formerly known as "Green Day" — were the Government's response to the High Court's insistence that the UK's Net Zero Strategy needed a "Spring clean". 
They come as an increasingly broad consensus recognises that in the face of a cost-of-living, energy price and climate trilemma, one urgent solution could help fix the hole in the UK's approach to Net Zero; energy efficiency.
Less about holes in roofs and more about draughty lofts, energy efficiency is among the most pressing issues Ministers need to tackle to avoid a repeat of the miserable — and deadly — winter millions of people have just endured. 
And when better to tackle it than when the sun is shining. As we head towards summer — where we are likely to see the flipside of the climate crisis in action — UK100 has analysed the announcements on energy efficiency to see whether the Government has seized the opportunity to insulate the loft while the sun is shining. 
In the deep midwinter of 2022, UK100 launched our End the wait. Insulate. report, setting out our plan for a local authority-driven nationwide social housing energy efficiency programme to slash bills for some of the most vulnerable households.
The report demonstrated how the Government could roll out an urgent social housing energy efficiency programme to reduce energy bills by up to £1,500 a year for tenants and kick-start a nationwide domestic energy efficiency drive — without spending a penny more than was already pledged.
It's a "timely and important" plan that, in the words of fuel poverty expert Professor Lucie Middlemiss, "makes sense because social housing organisations and local authorities already have a track record of delivery on retrofit, as well as providing homes for some of the most vulnerable people. Speeding up this programme will result in big quality of life improvements."
Key to the plan was redesigning the Government's flagship Social Housing Decarbonisation Fund (SHDF) to target an urgent £900 million fund — already earmarked for social housing energy efficiency — by need, rather than by competition. 
Local authorities are more stretched than ever in a cost-of-living crisis. But it is not just about more funding. Yet research shows local leaders spent between £27 million and £63 million since 2019 on applying for competitive funding pots. That is money they can't spend on delivery.
It is an issue both the Mission Zero Net Zero Review and Michael Gove, the Levelling Up Secretary of State, have recognised. And nowhere is it more acute than in the social housing energy efficiency sector — where a National Household Model database already exists to determine where energy efficiency upgrades are most needed.
By our calculations, an urgent, targeted, non-competitive £900 million fund, deployed by local authorities and delivered from 2022-2025 could reduce energy bills for over 180,000 low-income households by over a third - if administered alongside the UK Infrastructure Bank to attract private investment.
The Government's £778 million plan, via the latest competitive wave of the SHDF, will support over 100 projects — averaging just over £7 million per project by 2025, upgrading 90,000 homes and saving residents between £220 and £400 a year on their energy bills. The commitment is welcome. Any action to upgrade any homes is. 
But for about the same amount of taxpayers' money, our plan would reach twice as many households. And helping as many people as possible has never been more important. We Brits are stuck with some of the draughtiest homes in Europe and will continue to be hit hardest by the energy price crisis sparked by Russia's invasion of Ukraine.
It needn't be this way. We already know what a successful energy efficiency programme looks like, we had one in Britain until support for it was derided as "green crap" and axed in 2013. 
According to the Government's latest statistics, the number of homes getting energy efficiency upgrades in 2022 was equivalent to just a quarter of those homes that got energy efficiency boosts under the old scheme before the 2013 cuts kicked in. And the number of social homes upgraded barely registers on the graph.
Source: Department for Energy Security & Net Zero, 30 March 2023
It looks, therefore, like the Government has squarely missed the opportunity to spring into action on energy efficiency. In fact, National Energy Action (NEA) assessment of the measures announced on "Green Day" finds that the plans would mean we wouldn't be done upgrading Britain's draughtiest homes until about 2112 — another 190 years from now.
Matt Copeland, head of policy at National Energy Action, said progress on energy efficiency in the UK had "been far too slow for a decade" and is "not well targeted at fuel-poor households, who need the most support with their bills".
But there are rays of hope, an additional £1.1 billion in match funding for local authority energy efficiency action was also announced on "Green Day" alongside a £1 billion 'Great British Insulation Scheme'. The details, however, are scant on how the match funding works. Meanwhile, the Great British Insulation Scheme appears to be a rebrand of the latest Energy Company Obligation (ECO) programme previously announced. Together, they signal a step in the right direction, but until we know more, we can't be sure.
Ultimately, though, it's hard to argue with the NEA's argument that the funding, particularly for social housing, needs better targeting. Ministers need to finally grasp the need to rethink on competitive funding — beyond warm words — and acknowledge that the long-term problem needs a long-term solution beyond 2025. 
If the Government doesn't change tact, the rays of hope, however bright, will forever be overshadowed by the problems that have persisted for a decade. 
Before we let the memory of wintery misery evaporate, we must remember the crises facing millions across the country will flare up again when spring and summer make way for the colder months. The Government must act urgently to fix our roofs while the sun is shining. And UK100 and our members are on hand to help. Our plan, I'll reiterate for any Ministers still reading, is oven-ready and cost-neutral.