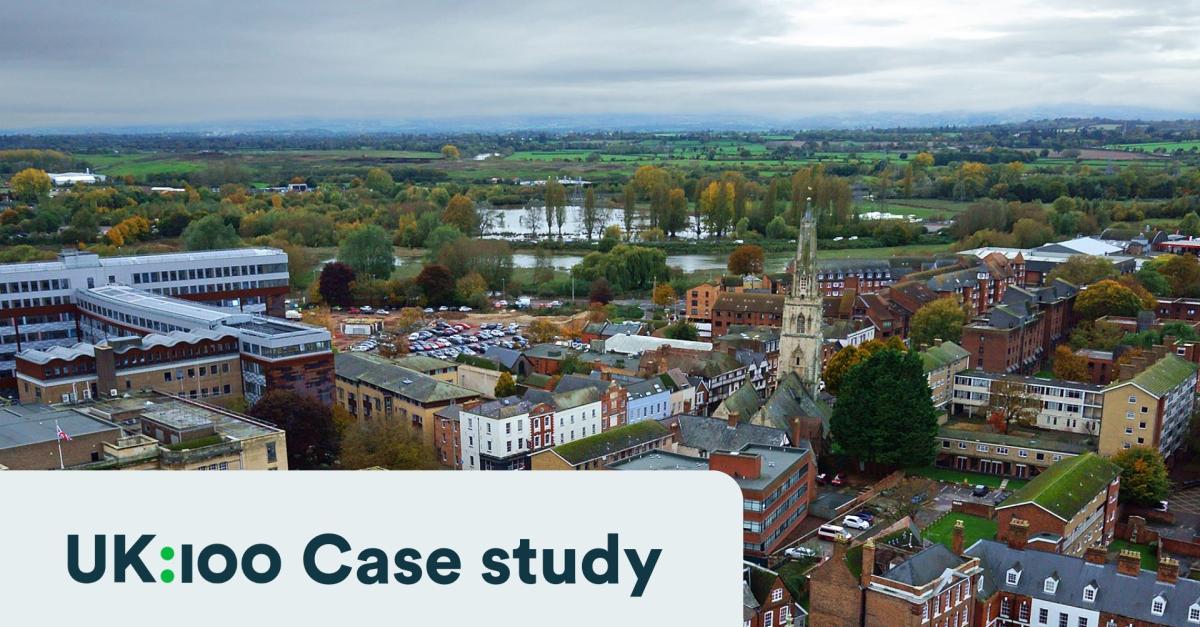 Summary
Gloucester City Council's new Green Travel Plan aims to provide a route map for reducing surface transport emissions and improving air quality. It does this through 15 recommendations, including to explore segregated cycling infrastructure and to embed the council's agile working policy. The project team ran a staff survey to inform the plan, which gave the council its first accurate read of officer commuting emissions. Not only did this bolster the recommendations, but it also moves the council's climate work in a more focused and hard data-driven direction.
Cllr Richard Cook, Leader of Gloucester City Council, says:
"Gloucester City Council has set ambitious Net Zero and carbon neutrality targets for itself and the wider district. We as a council recognise that to achieve these goals, organisations and individuals will have to change their approaches to travel. They will need to make more trips by walking, wheeling, and public transport, rather than by private motor vehicles. 
"To ensure that our residents trust us to take both justified and fair decisions, we must show that we are willing to go fastest and furthest. Our Green Travel Plan is part of our mission to be a 'do as we do' rather than a 'do as we say' council when it comes to addressing the climate emergency."
Lead member: Cllr Richard Cook, Leader and Environment Portfolio-holder, Gloucester City Council
Lead officer: Jon McGinty, Managing Director, Gloucester City Council
The problem
Gloucester City Council declared a climate emergency in July 2019, committing to:
Net Zero across its own operations by 2030
carbon neutrality within the broader district by 2045
We brought forward the latter of these commitments from 2050 to 2045 with the approval of the full council in September 2021. 
Emissions in the UK from surface transport are among the highest of any sector. In 2019, they were 22% of total UK emissions, according to the Climate Change Committee (CCC). We are strongly guided by the 'balanced decarbonisation pathway' of the CCC's Sixth Carbon Budget and to go further wherever possible. That is why we have set the ambitious goal of Net Zero corporate emissions by 2030.
This means that by 2030, we are required, as a minimum, to achieve: 
about a 17% reduction in miles that officers commute by car against pre-pandemic levels
fully electrified, or zero-tailpipe emission, motor vehicles driven by all officers who continue to commute by car 
Background 
Gloucester is the principal city of Gloucestershire. It's the most densely populated and urbanised district in an otherwise suburban and rural county, with a population of about 150,000, which includes its suburban areas.
The solution
The council is busy preparing its climate change strategy and action plan. But we need an interim plan so as not to constrain or delay our decarbonisation measures and stay on track to meet our 2030 targets. 
To that end, we have created the 'Gloucester City Council Green Travel Plan' (the Green Travel Plan). It aims to provide a route map for reducing surface transport emissions and improving air quality, with 15 recommendations to cut emissions.
The plan quantifies and assesses the per capita surface transport emissions from our officers' travel preferences. We quantified those emissions by running a detailed survey with Active Businesses Gloucestershire and expert emissions analysts, Mobilityways.
The survey's aim was to:
obtain data on the commuting and work travel habits and preferences of the council's officers
find, with a reasonable degree of accuracy, the average per capita emissions for all officers
We did not include councillors in the survey as they are office holders, not council employees, and so would not be bound by the Green Travel Plan.
Data collection: travel survey
Before we wrote the survey, we considered whether we could use the council's staff travel survey from early 2020 as the basis. However, while comprehensive, this earlier survey lacked key data such as the demographics and officers' home postcodes. Its insufficient detail constrained the contribution it could make to the Green Travel Plan's recommendations. 
The 2020 survey had also been conducted just before the pandemic. We agreed that changes to officers' commuting patterns as a result of Covid-19 would potentially produce radically different responses in 2022. With these 2 considerations in mind, we decided we needed a fresh survey.
We prepared the officer survey based on Mobilityways's required core set of questions alongside bespoke questions that we felt would add value to the survey. Mobilityways's survey format is flexible: organisations can, if they wish, add additional questions based on local factors, such as geography or distance from transport hubs.
The survey was run in an email format.
Core question example
'How long does your commute take in minutes? Please provide your average one-way journey time.'
Bespoke question example 
'Do you believe that there are currently barriers to working from home as a Gloucester City Council employee?'
Response rate
The survey ran for 9 weeks from late June to the end of August 2022, with several reminders sent to staff to complete it. Most council employees – 228 – received the survey, providing a 59% (135) response rate.
Mobilityways regards this response rate as 'approaching best in class'. It allowed the emissions analysts to reach an average emissions level for all officers with a margin of error of about 7%. That is, average emissions could be roughly as low as 170 kg or as high as 192 kg.
More responses would have given us a lower margin of error. But making the survey mandatory was not an option: workplace surveys can only be compulsory if included in an employee's contract.
Green Travel Plan recommendations
With the results from the survey, we developed the Green Travel Plan's 15 recommendations. The plan was subjected to several layers of internal scrutiny and feedback to ensure transparency and rigour. Some recommendations, such as one to increase employee parking charges to 50% of the market rate (see 'stakeholders' section below), were rejected by the senior management team and subject to revisions.
The plan's 15 recommendations include to: 
formally embed the council's agile working policy, which has been instrumental in reducing surface transport emissions from commuting
prohibit the use of aviation for domestic council business
conduct an annual travel survey to assess the impact of policy changes, monitor the changing travel preferences of staff, and measure per capita commuting emissions
review the parking permit scheme to ensure that the council's approach to staff parking incentivises reductions in staff driving in a fair and managed way
map safe, low-pollution walking routes from each of the city's wards to encourage walking and running
explore the provision of segregated cycling infrastructure with the highways authority
The demand-side focus of the recommendations will help ensure the policies are among the most effective transport decarbonisation policies established by the academic literature.
Timeline
May 2022: The council requests project initiation, which was originally delayed due to work on the 2021 to 2022 tree planting season.
June and July 2022: We liaise with Active Businesses Gloucestershire, who had acquired grant funding from the council to offer Mobilityways's services pro bono to a number of organisations in Gloucestershire. Mobilityways teams up with us to prepare the travel survey.
28 June 2022 to 31 August 2022: Travel survey is live. Mobilityways sends the survey to staff via email on 28 June from its dashboard, followed by email reminders on 1, 8, and 29 July. The council team gives in-person reminders at several staff meetings.
September 2022: We analyse the results with Mobilityways who then prepare the report. The project team then drafts the Green Travel Plan and circulates it to the lead member and lead officer for their review.
October and November 2022: We put forward the final draft of the plan for scrutiny by the senior management team, cabinet briefing, overview and scrutiny, and cabinet. It receives sign-off at cabinet on 17 November.
December 2022 into 2023: We are now working through the recommendations. The next step will be updating senior management and relevant council committees as part of the annual review proposed in the plan's recommendations.
Stakeholders
The key stakeholders for this project were:
the council and its officers
HR, who hold all employees' home addresses, which we needed to calculate per capita emissions
senior management 
overview and scrutiny members
cabinet members
We met regularly with Mobilityways officers to ensure the survey was structured appropriately and analysed correctly.
Addressing points of resistance 
There were 2 main points of resistance in response to the recommendations of the report. 
The first was from the senior management team. It concluded that a proposal to increase the cost of the subsidised parking permit for staff to 50% of retail value was politically unacceptable at this time, considering the cost of living crisis. A recommendation was made to further investigate how the council could keep its parking permits affordable while staying on track to meet its 2030 net zero target.
The second came from a minority of councillors on our overview and scrutiny committee who articulated a preference for mainly office-based working for officers. 
Our agile working policy has been central to the council's significant reduction in surface transport emissions from commuting. The council's average annual employee commuting emissions stand at 185 kg of CO2 equivalent. This is significantly lower than the national best-case scenario – in which every employee uses the lowest carbon mode of transport available to them – of 281kg. 
Given that most organisations are well-adrift of this goal, Gloucester City Council officers' average commuting emissions is a powerful reminder of the impact of home working on reducing private car journeys.
The project team, along with the cabinet member for finance, made a compelling case for formal adoption of the agile working policy based on: 
justifications in respect of labour market conditions
staff retention
emissions reductions
direct and indirect cash and carbon savings from smaller office requirements
The exercise was extremely insightful for the project team, which used the opportunity to demonstrate the value of its commitment to evidence-led policy making.
Impact
The work on the Green Travel Plan has had several important impacts that will improve our climate work, such as greater knowledge of our emissions and a more data-driven approach. 
Greater knowledge of our emissions 
We now have a much better understanding of our per capita commuting emissions, travel preferences, existing travel options, and basis for further action. For the first time, we have accurately quantified the individual and collective commuting emissions of our officers. This knowledge will plug in effectively to our upcoming climate change strategy and action plan.
More focussed and data-driven decarbonisation 
The project has also set a high methodological bar for acquiring data to inform decarbonisation policy locally. It moves our decarbonisation practice in a more focused and hard data-driven direction. In time, this will produce stronger business cases and greater transparency and accountability for the residents whom our members and officers serve.
Lessons learned
The work on the plan illustrates the importance of using hard data and developing a strong relationship with the local highways authority. 
Use hard data over opinions
Our approach ensured the plan's recommendations were supported not by what officers told the team about their travel habits, but primarily on hard data. Travel surveys that ask staff for their opinions are liable to produce outcomes that are ineffective in reducing surface transport emissions. By using home address data and information about transport modes used, emissions per capita are determined in a more rigorous fashion.
Strengthen relationship with highways authority 
We as the city council are not the highways authority for our roads – those powers lie with Gloucestershire County Council. There's a need to strengthen the relationship between the 2 councils to ensure that policy recommendations are well-supported by those with the powers and budgets to implement them. This illustrates an advantage that unitary local authorities have over 2-tier local authority systems.
Finances
The only cash cost associated with the project was the opportunity cost of the time dedicated by the project team. The team could have taken on other projects, but it had made the Green Travel Plan a high priority.
There was no cost to us for the service Mobilityways provided, due to the grant-funded nature of its emissions analysis. Should we wish to work with them – or an equivalent organisation – in future there would be a cash cost. But we don't expect it to exceed £5,000, for which we'd have to allocate budget.
Next steps
Some of the Green Travel Plan's 15 recommendations require additional work like creating segregated cycle ways to reduce commuting emissions. We also need to monitor annual commuting emissions. The former will form part of a 2023 annual update alongside a re-analysis of per capita emissions data.
We will share the Green Travel Plan widely through the regular 'CN2030' joint-working meetings between lead climate officers from all of Gloucestershire's districts, led by the County Climate Coordinator. The purpose of these meetings is to share best practice and avoid costly duplication of environmental policies across the county.
Links, contacts, and credits
Find out more in the: 
You can also contact the: